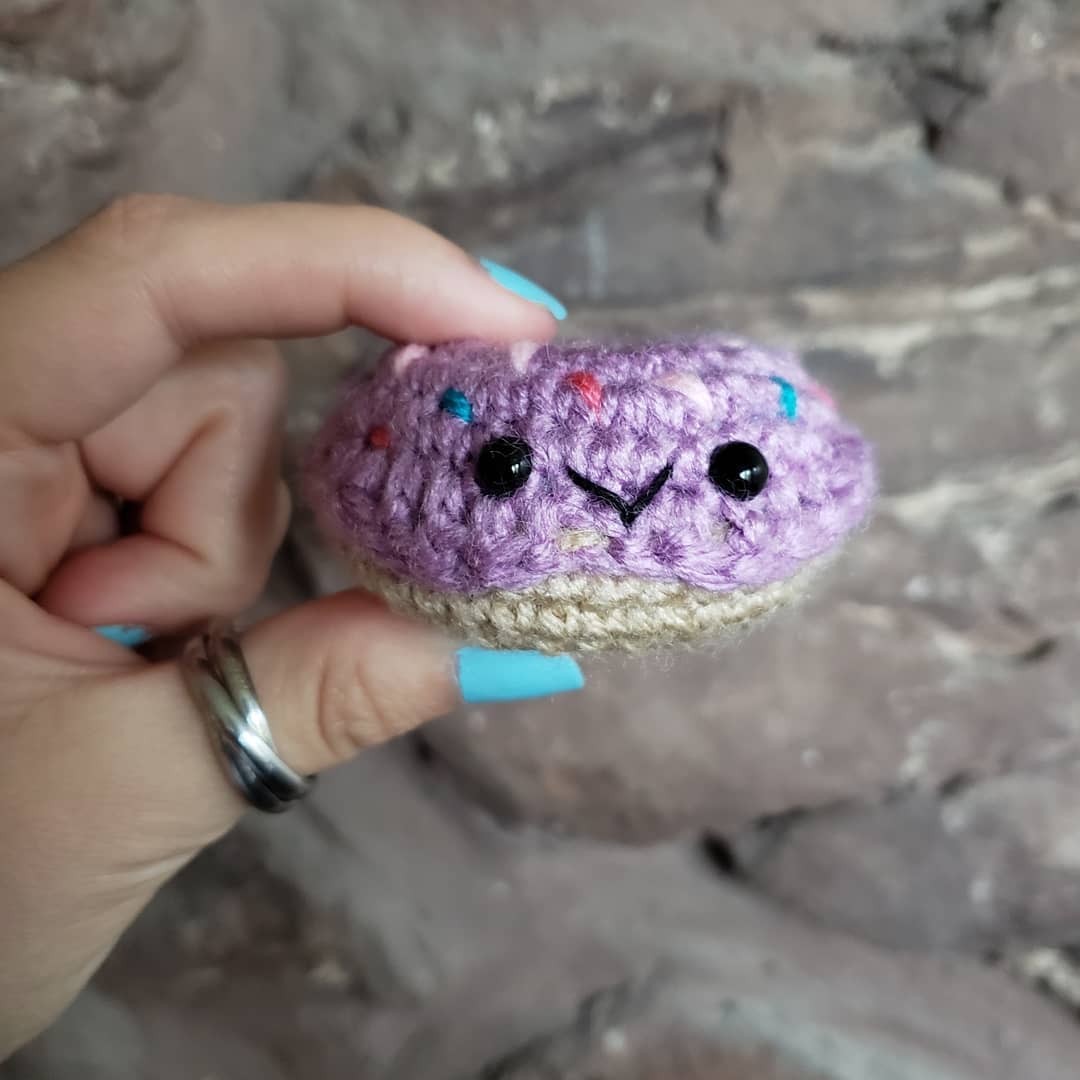 My husband loves donuts! They are his favorite thing to eat! I, of course, had to make a crocheted one to go along with my other mini food patterns! I plan to crochet two donuts for him! When I showed the donut to my 2-year-old son, he said, "cute!", I too am in love with it! This donut, like the rest of the mini foods, is a quick and easy pattern to make up. The pattern for the donut can be made bigger or smaller depending on the size of hook and yarn you use to crochet it up. I hope you all enjoy all your dunking!
Do not sell, reproduce, or change the pattern itself in any way! You are welcome to sell your completed products, just make sure to refer to me as the designer! Please make sure to tag me,
@crochetwizzard #crochetwizzard!
Materials-
Worsted weight yarn

Golden tan, purple, sprinkle colors, and black thread

Hook size 3.5mm (E)
6mm Safety Eyes, or an alternative form of eyes
Stitch Marker
PolyFill
Tapestry Needle
Scissors
Sewing Pins
US Terminology-
Abbreviations-
Rd(s)- Round(s)
MR- Magic Ring
Ch- Chain
Sc- Single Crochet
Hdc- Half Double Crochet
Dc- Double Crochet
Sl st- Slip Stitch
St(s)- Slip Stitch(s)
Inc- Increase
Dec- Invisible Decrease

In front loops only, pick up the next two loops, yarn over and pull through twice.

FO- Fasten Off
Notes-
Magic Ring Alternative. Chain 2 and single crochet in the second chain from the hook.
This will be crocheted in the round.
If not specified or in (), repeat to the end of the round.
Stuff as you go.
Donut-
Ch 12, sl st in the last ch to make a ring. Making sure not to twist when joining together.
Rd 1: sc 12 on one side of the ch (12)
Rd 2: sc around (12)
Rds 3-4: sc, inc (18) (2 rounds)
Rd 5: sc, inc, sc (24)
Rds 6-7: sc around (24) (2 rounds)
There are more pictures in the downloadable PDF version purchasable here!
Repeat rds 1-6 on the other side of the ch with the frosting color. Insert your hook from the same side as the tan side. While sewing the donut closed, insert the eyes between the joining rd and the last rd, 6 sts apart.
To sew together, insert the hook through both loops of both halves of the donut up toward the frosting. Start with a ch and starting in the next st (sc, hdc, dc 2, hdc, sc, sl st) stuff as you go! FO and sew in the ends. Sew some sprinkles on the frosting and mouth.

I would love to see your pictures! Please tag me in your pictures,
@crochetwizzard #crochetwizzard #delightfuldonut #crochetdonut!
If you have any questions, please feel free to contact me! You can direct message me on Facebook or Instagram at @crochetwizzard or email me at crochetwizzardd@gmail.com.
There are more pictures in the downloadable PDF version purchasable here!
Subscribe to my newsletter, just click here!
Enjoy!
Thanks! The CrochetWizzard!