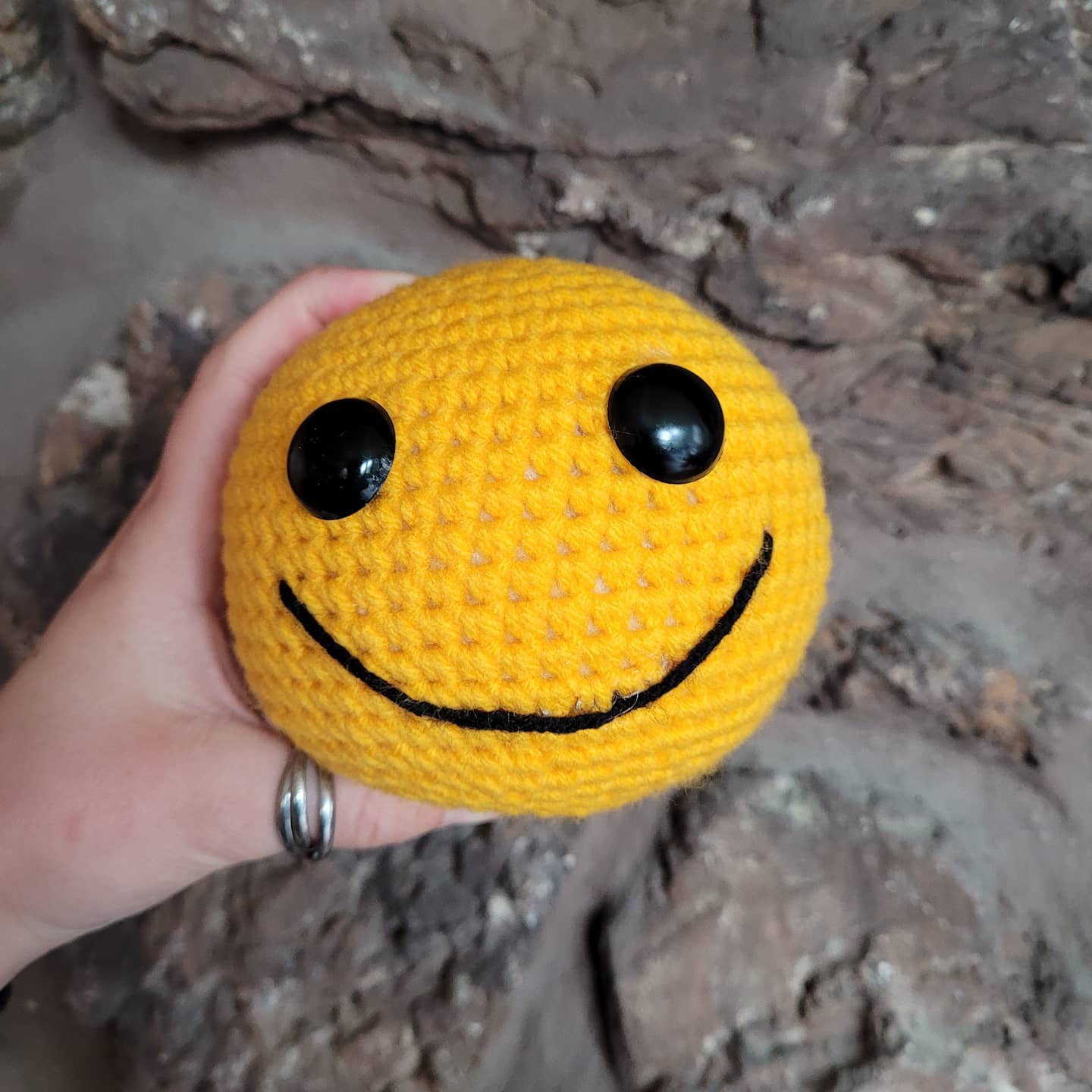 This little cutie was inspired by another pattern I was making. I was making one of my son's current favorite book characters Nibbles the Book Monster and I just had to stop and take a picture of him as a smile! We all need more smiles in our life! Here's a smile for you or a friend!
Do not sell, reproduce, or change the pattern itself in any way! You are welcome to sell your completed products, just make sure to refer to me as the designer! Please make sure to tag me
@crochetwizzard #crochetwizzard!

Materials-
Worsted weight yarn

Yellow and black ( if you make a different emoji then use the different colors that are needed)

Hook size 3.5mm (E)
20mm Safety Eyes, or an alternative form of eyes
Stitch Marker
PolyFill
Tapestry Needle
Scissors
Sewing Pins
US Abbreviations-
Rd(s)- Round(s)
MR- Magic Ring
St(s)- Stitch(s)
Sc- Single Crochet
Inc- Increase
Dec- Invisible Decrease
o In front loops only pick up the next two loops, yarn over, and pull through twice.
FO- Fasten Off
FLO- Front Loop Only- for closing up holes.
Notes-
Magic Ring Alternative- chain 2 and single crochet in the second chain from the hook.
This will be crocheted in the round.
If not specified or in () repeat to the end of the round.
Stuff as you go.

Rd 1: sc 6 in MR
Rd 2: inc (12)
Rd 3: sc, inc (18)
Rd 4: sc 2, inc (24)
Rd 5: sc 3, inc (30)
Rd 6: sc 4, inc (36)
Rd 7: sc 5, inc (42)
Rd 8: sc 6, inc (48)
Rd 9: sc 7, inc (54)
Rd 10-23: sc around (54) (14 rounds)
Rd 24: sc 7, dec (48)
Rd 25: sc 6, dec (42) Insert eyes between rds 12 and 13, 8 sts apart.
Rd 26: sc 5, dec (36)
Rd 27: sc 4, dec (30)
Rd 28: sc 3, dec (24)
Rd 29: sc 2, dec (18) Stuff
Rd 30: sc, dec (12)
Rd 31: dec (6)
FO and weave in the end. Now have fun with the smile. Make whatever face you'd like!

I would love to see your pictures! Please tag me in your pictures,
@crochetwizzard #crochetwizzard #sunnysonrisa #crochetsmile!
If you have any questions, please feel free to contact me! You can direct message me on Facebook or Instagram at @crochetwizzard or email me at crochetwizzardd@gmail.com.
Enjoy!
Thanks! The CrochetWizzard!